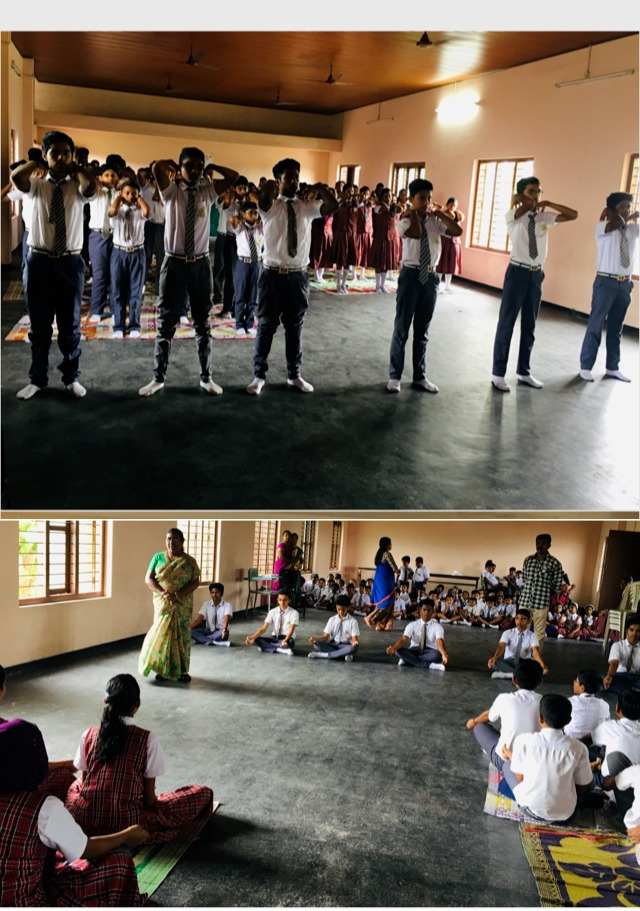 Lourdes Mount Public School conducted YOGA Session for all the students on 20th November 2019, the first day of the week. YOGA master Mr. Vipin Kumar demonstrated various asanas (Bhujangasana, Vrikshasana, Savasana etc). Students were given an awareness programme about the benefits of these asanas. Principal Mrs. Mariamma George also spoke on the occasion. She persuaded students to make YOGA an integral part of their daily life.
---
Students were assembled in the school ground and physical education master Mr. Syam B demonstrated a few hand exercises to strengthen the muscles of their body. They were asked to follow these sets of exercises daily to get fit and healthy body.
---
On the 3rd day of the fitness week a Poster Making Competition was conducted for the students of classes V to VIII to inculcate physical activities and sports in their lives. Topic of this competition was 'Fit Body, Fit Mind and Fit Environment'. Students made creative posters on this topic.
---
Aerobics is a form of physical exercise that combines rhythmic aerobic exercise with stretching and strengthening training routines with the goal of improving all elements of fitness. Keeping this in mind aerobics and martial arts activities were organized for the children to instill a healthy life style which will help in increasing self esteem and confidence.
---

An Essay Writing Competition was conducted for the students of class V to IX on the topic 'Fit India School' and how physical activity and sports were crucial for a well-rounded personality.
---
Students of class VI to IX were engaged in a Mass PT Drill. Physical Education master Mr. Syam B conducted a warming up exercise for the students.
---